Setting up Dual Monitors
When a single monitor just isn't enough for your workflow, you need to add a second one to increase your working screen area. Be able to view all available tools, menu selections, and information at all times without having to constantly switch between tasks. Learn more about how to configure your extended display settings.
Switch between display modes
There are four display modes available in Windows 10, which can be quickly accessed by clicking the Notifications icon in the bottom right hand corner of your screen then select Project button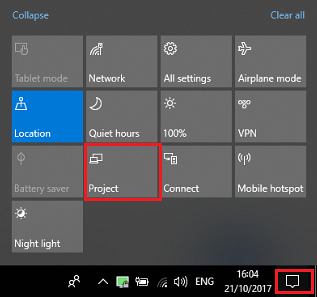 or by hitting Windows key + P on your keyboard this will bring up a sidebar with four options. Depending on whether you're on a laptop or desktop PC, either Extend or Duplicate will be selected by default. Here's a quick rundown on the differences between each option:
Configuring display settings

The majority of settings can be configured on this page, first of all, you need to define the position of the second monitor with respect to the first monitor.
1. Right-click anywhere on the desktop.
2. Click Display settings.
3. Click the "Identify" button to see the each display's number appear on the display, and then drag and drop the
displays so Windows understands how they're physically positioned. Display number one is your primary display. Click "Apply" to save any changes you make.
4. If Windows didn't detect all your connected displays automatically, click the "Detect" button here.
5. Rearrange displays by clicking and dragging the numbered boxes.
6. Use the scaling slider to make text and other content larger.
7. Choose between landscape or portrait to change the selected display orientation. Orientation will allow you to change whether your display has a portrait or landscape orientation.
8. The Multiple displays option allows you to extend, or mirror, your displays. Select the display you want to be your primary one at the top of the window and then click "Make this my main display".
9. You can also choose how you want taskbar buttons to appear. For example, you can choose whether a window's buttons should appear in the taskbar only on that window's display or on all displays.
Learn more about Dual Monitors set-up: